Articulating Cinema Baffle Wall System
Project: Articulating cinema baffle wall system, Mary D. Fisher Theater
Description
: This project allows a theater wall to move into different positions depending on the type of performance being hosted. The acoustic speaker enclosure (baffle) wall is hung from rollers and automatically moves forward and backward with a wireless controlled actuator and lever system. Built with 25 foot long black anodized aluminum head channel mounted to carriers with 16 steel roller wheels and two overhead steel tracks connected to ceiling headers. The head channel supports a welded aluminum framed wall covered with two layers of 5/8″ sheet rock and one layer of sound-proofing material, with openings for rear speaker placement. Head channel also supports automated side masking panels to accommodate different movie aspect ratios, as well as the main theater curtain, lower skirt and main movie projection screen. Total weight of moving wall system is approximately 1,785 pounds. Designed in collaboration with Mike Bower,
Design Group Architects
. Installed under supervision of RG Toogood Construction in Sedona, Arizona.
Year: 2012
.
The completed baffle wall showing the screen installed over the sound-proofing layer.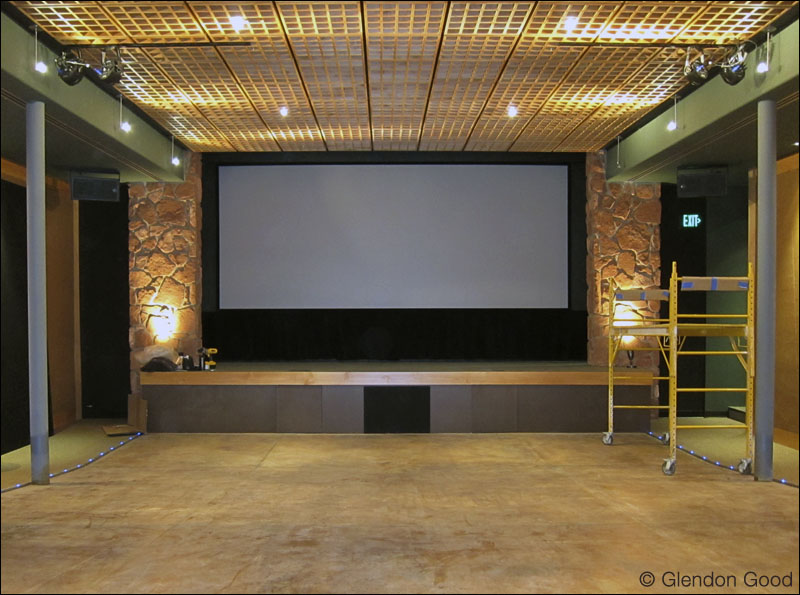 .
Installing the sound-proofing material over the sheet rock.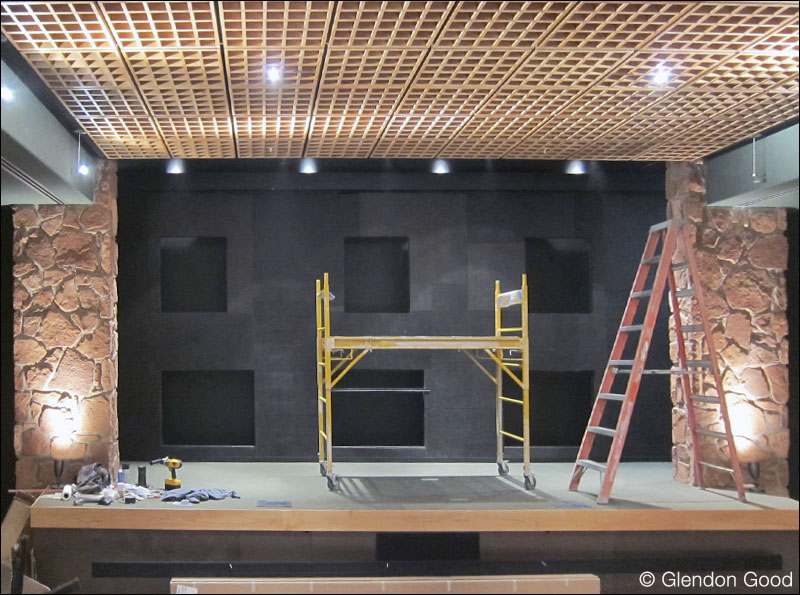 .
Installing the double layer of 5/8″ sheet rock on suspended aluminum frame.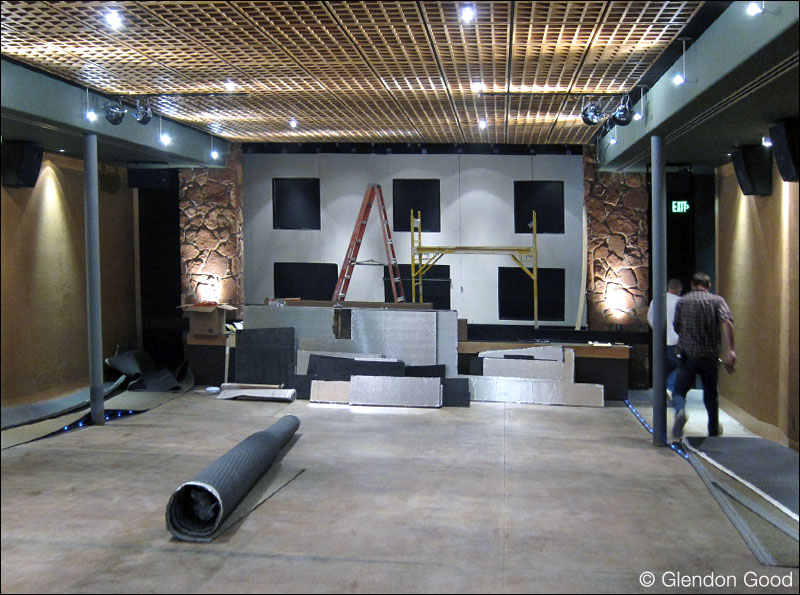 .
Installation of aluminum framing wall with framed speaker openings.
.
Schematic drawing showing head channel and aluminum framing superimposed over the movie screen, speakers and baffle wall.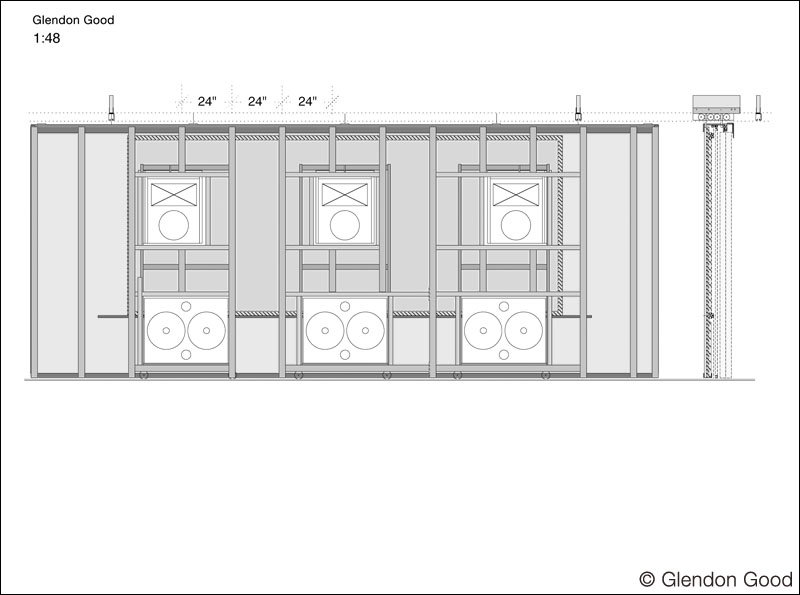 .
Plan and elevation views of wall system with rolling speaker carts.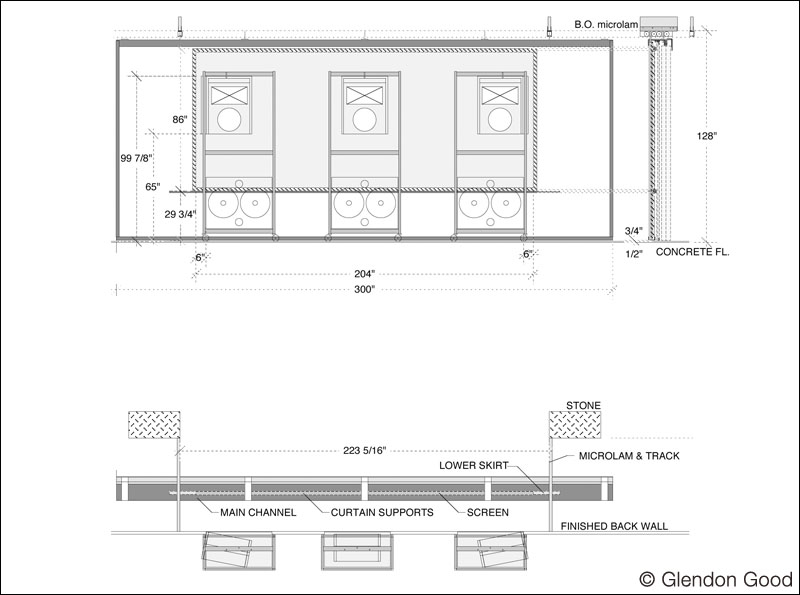 .
Section and gearing lever plan showing forward and back positions.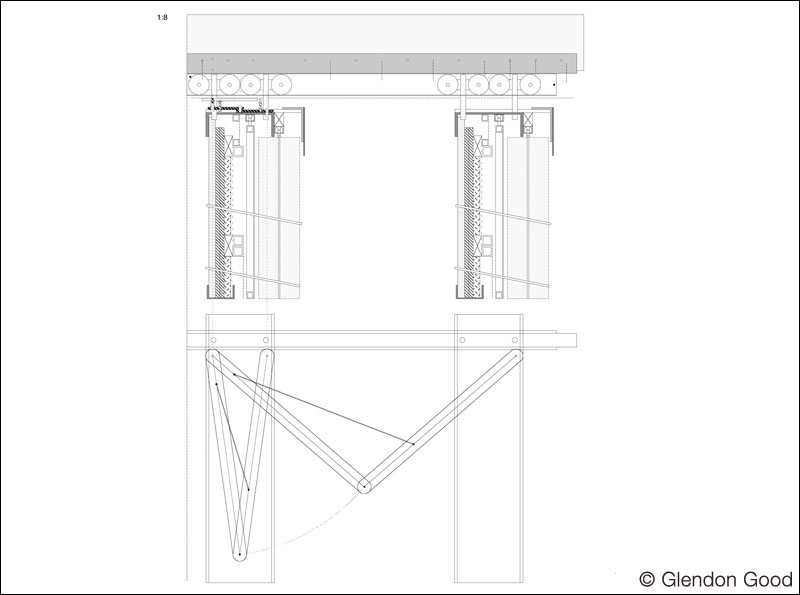 .
Section detail showing track rollers, head channel, aluminum framing and positioning of other components.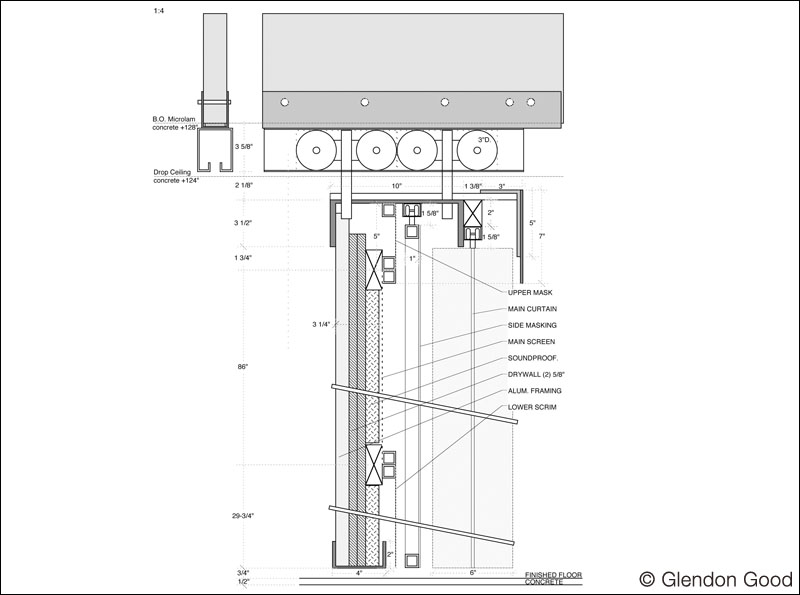 .
Fabrication details showing the anodized aluminum head channel, linear actuators, levers and support bars.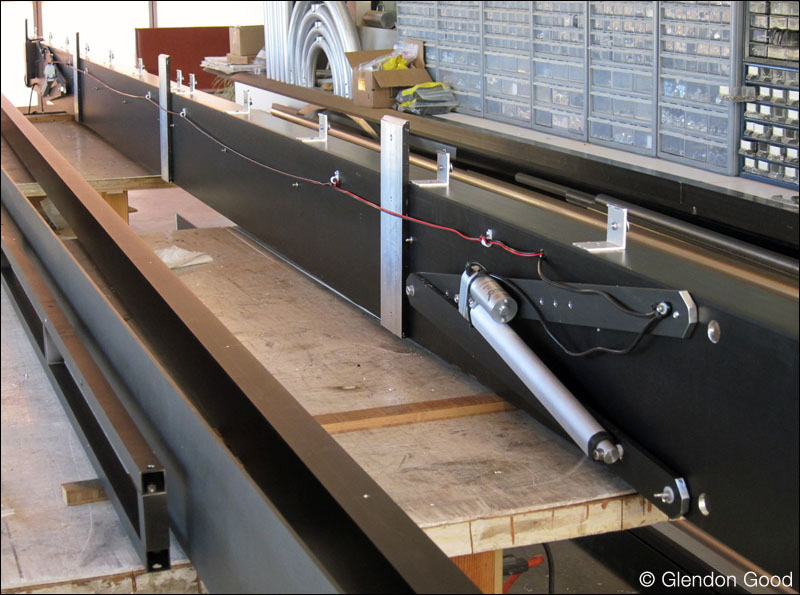 .
Fabrication details of wireless controller mounted to head channel with levers and electronic actuator.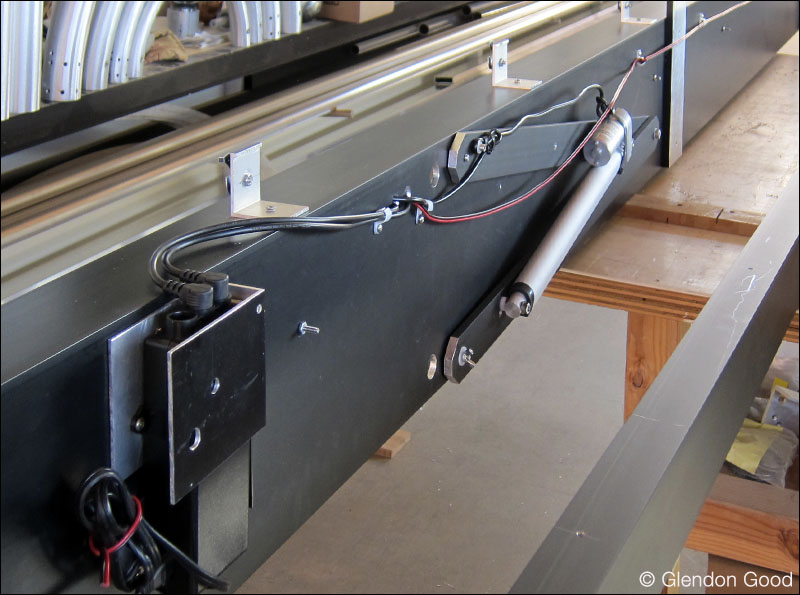 .
Fabrication details of welded aluminum framed wall prior to installation.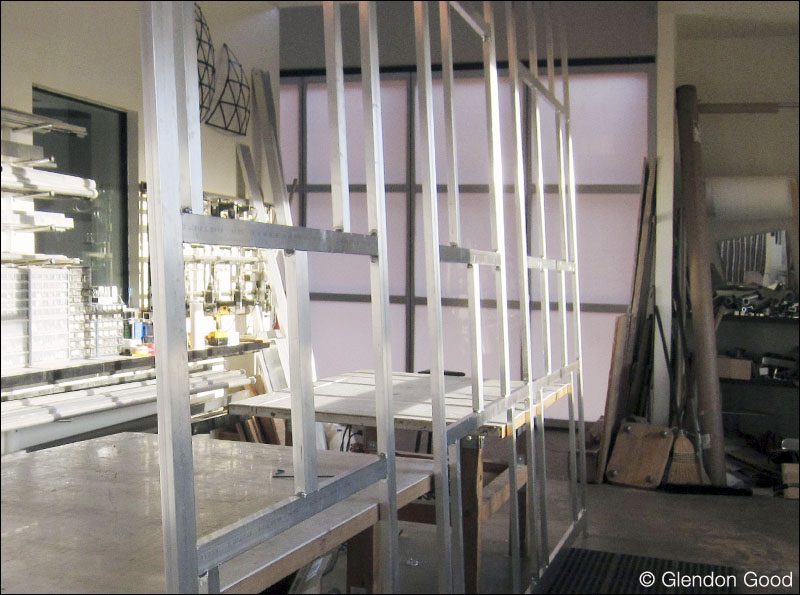 .
The installed track system with aluminum framing and head channel mounted to upper rollers and levers.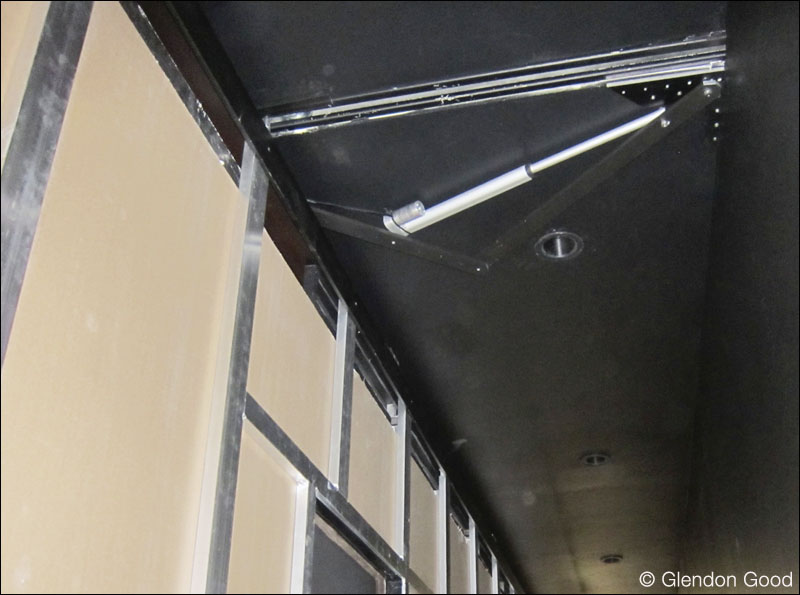 .
Installed wall system with custom speaker carts in forward (movie) position.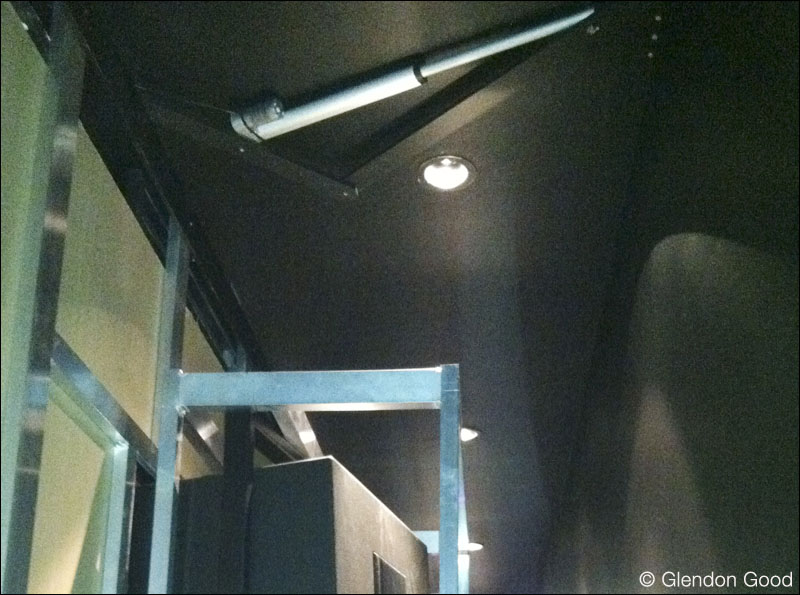 .
Detail of lower sub-woofers on carts in speaker cut-out position behind the screen.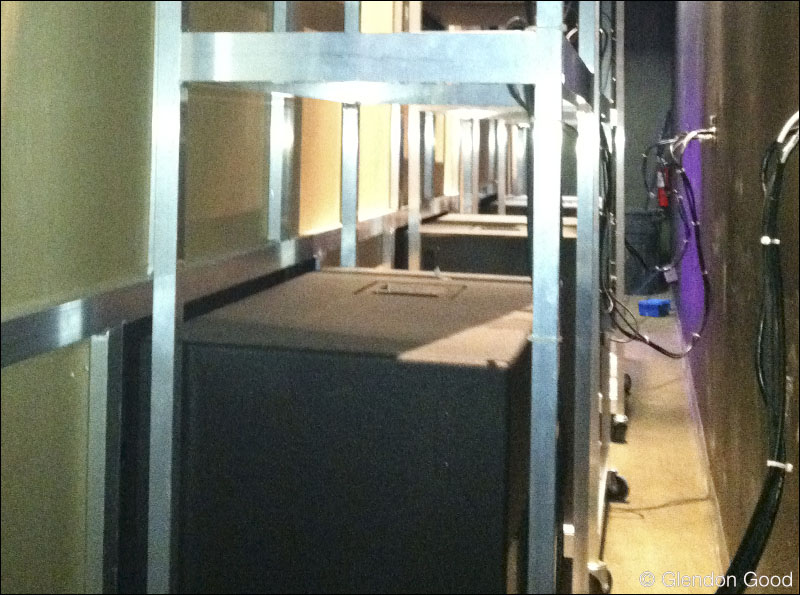 .
Detail of motorized controls for theater curtain and side masking panels attached to main head channel. Note the main track embedded flush within the ceiling.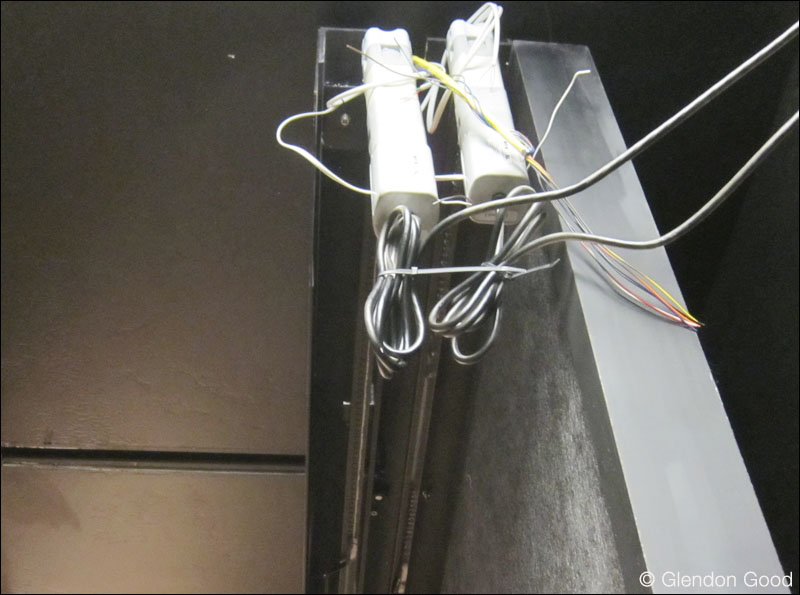 .
Glendon inspecting the cinema wall project upon completion.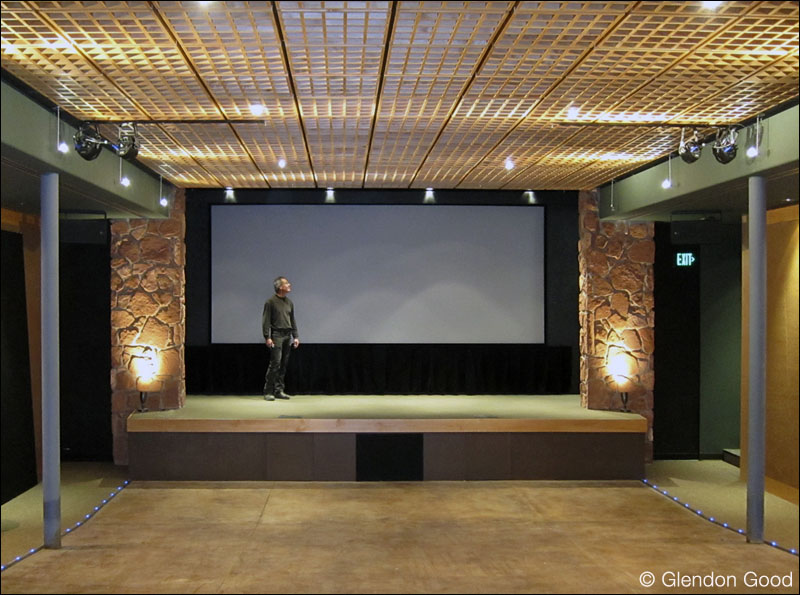 .
Patrick Schweiss, Executive Director, Sedona International Film Festival
"Glendon Good worked a miracle for our new arthouse theatre here in Sedona, the Mary D. Fisher Theatre. We challenged him to create a theatre wall, complete with screen, THX sound wall, masking, curtains and other parts … and make it moveable! We needed the screen to be as close to the audience as possible for films, and needed the theater to convert to a live performance venue with as much stage space as possible.
Glendon managed to work that miracle! With the touch of a button — as simple as a remote garage door opener — the entire unit moves seamlessly to the back wall, and we have a live performance venue … in a matter of seconds. Glendon created sheer genius! And best of all, he thrived on the challenge! He custom-designed the system specific to our theatre, our needs (and within our budget). Our audiences get to experience the fruits of his labor every time they enjoy an event here. I give him my highest recommendation. He truly is the best in the business, and a nice guy, too!" -April 2012
.
Visit THX to learn more about Cinema Baffle Walls.