Phoenix Home & Garden – Bamboo Bounty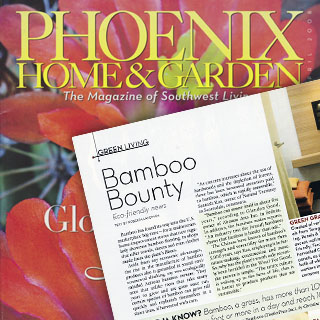 "As concern increases about the use of hardwoods and the depletion of forests, there has been increased attention paid to bamboo, which is rapidly renewable.
Bamboo can renew itself if about five years, according to Glendon Good, owner of Abraxas Arts, Inc. in Sedona. In addition, the furniture maker reports, an industry test for hardness shows that bamboo is harder than oak.
So, why has the plant's worth only recently been heralded in the West? For Good, the answer is simple. "The entire culture is waking up to the facts of life, that it is better to produce products that are sustainable."
.
Phoenix Home & Garden, Bamboo Bounty, by Roberta Landman, April 2008, page 50

.