Sedona Red Rock News – Inventor finds way…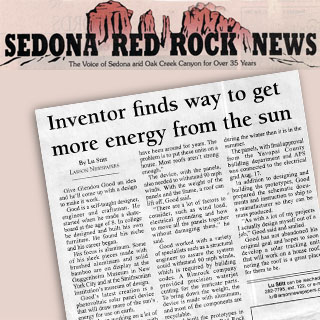 "Give Glendon Good an idea and he'll come up with a design to make it work. Good is a self-taught designer, engineer and craftsman. He found his niche and his career began. Some of his sleek pieces are on display at the Smithsonian Institution's museum of design.
Good's latest creation is a photovoltaic solar panel device that will draw more of the sun's energy for use on earth.  Good Built four prototypes in his studio on Upper Red Rock Loop Road.
Sedona Red Rock News, Inventor finds way to get More Energy from the Sun, by Lu Stitt, Sept. 10, 2010, page 3A
.
Click HERE to learn more.

.