Western Art & Architecture – Illuminations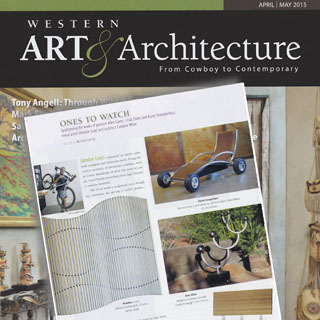 "Glendon Good's industrial art pieces span both sculpture and utilitarian work.  Using the modern aesthetic of aluminum combined with an innate knowledge of what the material can do, Good builds everything from light fixtures to outdoor furniture. 
"All of my work is sculptural, even though my customers are getting a useful product," he says.
Good chooses aluminum as his primary medium because he feels it allows him unlimited freedom in style and design."
Illuminations – Ones to Watch, Michele Corriel, Western Art & Architecture, April 2015, pages 58-59